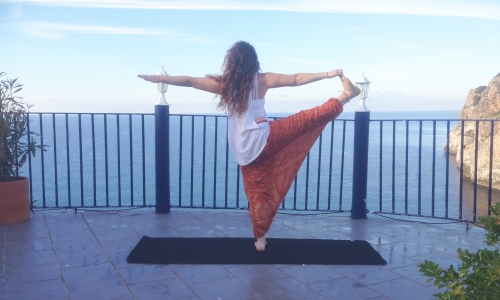 Led by Amber Serene Yoga Therapist E-RYT
Amber has trained in various self care practices such as; Massage therapy, Acupuncture, traditional Hatha, Qigong and many other forms of Yoga asana, Sound and Kirtan as well as Yoga therapy. She had found her Yoga practice in the southern & northern parts of India finding and is internationally certified as an advanced Yoga teacher with over 7 years of experience.
Amber prefers to practice a more stimulating yoga style in the morning to increase energy flow like Ashtanga Vinyasa and a healing Hatha Restorative Yin practice to wind down in the evening. With every practice she combines the rhythm of breath with movement, being mindful & connecting through her centre, tuning into body alignment awareness through the teachings of Iyengar Yoga and bringing healing to where it is needed it most.
"I love creating my own unique flow listening & connecting to my students needs"
"Amber is a brilliant teacher. The atmosphere she creates is so relaxing.
I always leave her classes feeling rejuvenated, completely relaxed, and with a calm, peaceful mind. Also she really helps you to work to your full potential with every pose so you get a thorough deep stretch. I suffer with lower back pain and tension in my neck and shoulders and a general state of stress – I realise this because of how calm I feel after her classes! And it's so relieving to stretch out all my tense areas. I can't recommend her enough."
"Amber has such a great mix of a warm heart and gentle guidance to complement her knowledge of yoga & experience."
One to one sessions available
Available online via Zoom/Skype
Yoga styles taught…
Hatha
Restorative Yin
Iyengar
Ashtanga Vinyasa
Yoga therapy for stress, depression, anxiety & insomnia
A healing class tailored to meet your individual needs working with different breathing techniques, deep meditation, easy comfortable stretches,
Yoga Nidra deep sleep relaxation & sound energy healing.
1 hour £35
1.15 hour £40
Block savings & concession rates available.
See you on the mat! ♥