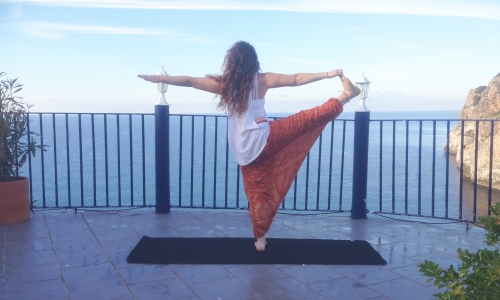 Led by Amber Serene Yoga Therapist E-RYT
Amber has trained in various self care practices such as; Massage therapy, Acupuncture, traditional Hatha, Qigong and many other forms of Yoga asana, Sound and Kirtan as well as Yoga therapy. She had found her Yoga practice in the southern & northern parts of India finding her feet and is internationally certified as an advanced Yoga teacher with over 7 years of experience.
Amber prefers to practice a more stimulating yoga style in the morning to increase energy flow like Ashtanga Vinyasa and a healing Hatha Restorative Yin practice to wind down in the evening. With every practice she combines the rhythm of breath with movement and with a mindful approach, tuning into body alignment awareness through the teachings of Iyengar Yoga and bringing healing to where it is needed it most.
"I love creating my own unique flow listening & connecting to my students needs"
"Amber is a brilliant teacher. The atmosphere she creates is so relaxing.
I always leave her classes feeling rejuvenated, completely relaxed, and with a calm, peaceful mind. Also she really helps you to work to your full potential with every pose so you get a thorough deep stretch. I suffer with lower back pain and tension in my neck and shoulders and a general state of stress – I realise this because of how calm I feel after her classes! And it's so relieving to stretch out all my tense areas. I can't recommend her enough."
"Amber has such a great mix of a warm heart and gentle guidance to complement her knowledge of yoga & experience."
One to one sessions available
Available online via Zoom/Skype
Yoga styles taught…
Hatha
Restorative Yin
Iyengar
Ashtanga Vinyasa
Yoga therapy for stress, depression, anxiety & insomnia
A healing class tailored to meet your individual needs working with different breathing techniques, deep meditation, easy comfortable stretches,
Yoga Nidra deep sleep relaxation & sound energy healing.
1 hour £35
1.15 hour £40
Block savings & concession rates available.
See you on the mat! ♥
I've been attending Amber's yoga classes regularly over the last few months.
Amber's clear commitment to yoga, not only as a holistic practice, but as a way of life is deeply inspiring.
She welcomes questions and is keen to inspire others to experience the many benefits  that a regular yoga practice offers.
I enjoy the balance she offers between meditative and physical practices in the company of kindred spirits.
A dream experience – I loved everything about this retreat and learnt so much in such a short time. The food was delicious and i thoroughly enjoyed the raw food workshop and being able to talk to our chef so openly. Each yoga class was completely different but amazing too and its clear to see that Amber is a real specialist who adores what she does. She created the most beautiful and calming atmosphere from the moment we walked in the door, where everybody could do and be as they wanted. My mum and i did our morning sessions in our pyjamas, it was that relaxed! By the end of the retreat i felt like i had found myself again and was completely grounded and inspired. I keep referring back to my positive affirmation that Amber had asked us to create and is changing my life. I will definitely be going to another of her retreats – it was an incredible weekend.
Amber was so calm and lovely- her energy permeated the whole weekend. The diverse yoga styles, the calm pacing, the magnificent vegan meals and beautiful house made it a real treat. Our group of strangers gelled together beautifully and shared wonderful stories and ideas and many laughs. Bonds of friendship and understanding were built! Heart warming 😍