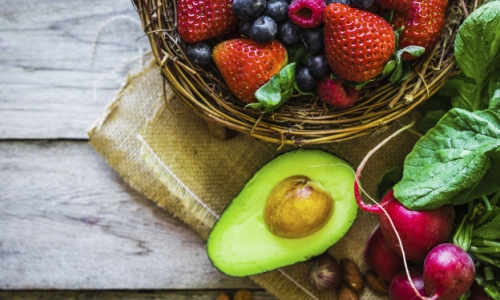 At Yoga Retreat Holidays we offer tasty nutritious balanced vegan meals, healing from the inside out.
"The body is your temple, keep it pure and clean for the soul to reside in."
B.K.S Iyengar
Juicing
Did you know that 95% of the vitamins and enzymes our bodies need are found in the juice of raw fruits and vegetables? We would need to eat 2 lbs of carrots, 10-12 apples, or 8 lbs of spinach to get the same amount of nutrients you receive in one 16 oz juice.
When you drink juice, highly concentrated vitamins, minerals and enzymes rapidly enter the bloodstream which absorbs all of the nutritional benefits of the fruits and vegetables and giving your digestive organs a much needed rest.
Juicing for health
There is lots of research that shows the healing properties of juicing. Not only will juicing facilitate weight loss, increase energy levels, strengthen immunity, bones and a glowing complexion, it may also reduce chances of heart disease, cancer and strokes. A growing body of research suggests that most vitamin supplements don't help prevent chronic disease. A synthetic vitamin or mineral is a laboratory simulation of the real thing. Natural, plant-based vitamins and minerals are more easily and completely absorbed by the body.
Yoga Retreat Delicious Recipes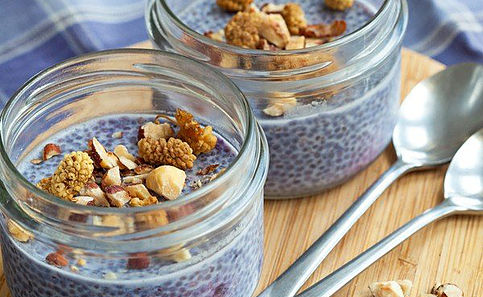 Blueberry chia seed pudding recipe
Ingredients: 
1 cup chia seeds (white or black)
1 cup full fat coconut milk (add more water if you need extra liquid)
2 tsp vanilla bean or extract
1-2 tbsp honey or agave syrup
3 tbsp shredded coconut
pinch of salt to taste
handful of blueberries or other fresh fruit
Mix together and leave in fridge for 4 hours.
4 Portions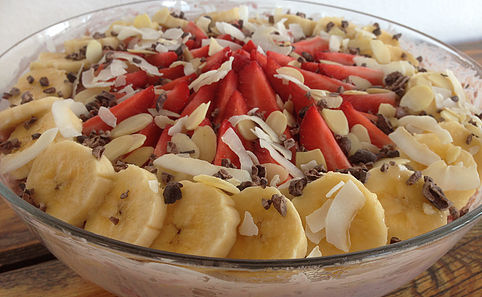 Berry Bircher Muesli recipe
Ingredients: 
3 cups rolled oats
A drizzle of apple juice or almond/hemp milk
1 cup organic strawberry yogurt/soya yogurt/coconut milk
1 cup mixed berries
1 spoon raw cacoa nibs
Hand full of nuts
Sprinkle: chia seeds, flaxseeds, pumpkin seeds & coconut flakes
Mix together and place in fridge over night
4 Portions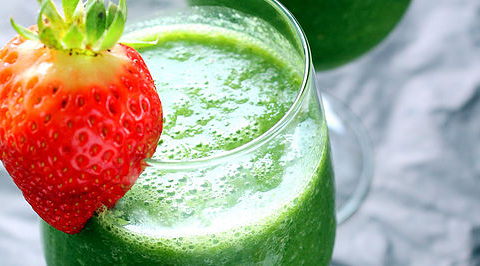 Green uplifting smoothie bowl recipe
Ingredients: 
1 bag of spinach
2 avocados
1 mango
2 kiwis
1/2 cup of almond milk
1 can of coconut milk
1-2 tbsp honey or agave syrup
Toppings:
Shredded coconut
Goji berries
Seeds & nuts
Granola or puffed quinoa
Fresh fruit
Mix together and leave in fridge for 30 minutes.
4 Portions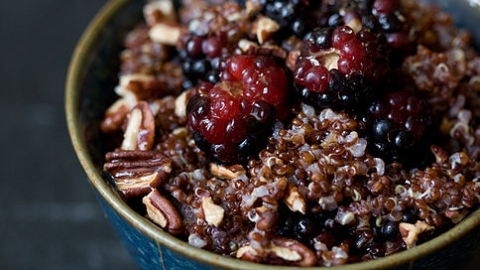 Warm and Nutty Cinnamon Quinoa recipe
Ingredients:
1 cup almond/hemp milk
1 cup water
1 cup organic quinoa, (hs note: rinse quinoa)
2 cups fresh blackberries, organic preferred
1/2 teaspoon ground cinnamon
1/3 cup chopped pecans, toasted*
4 teaspoons organic agave nectar
Method
Combine milk, water and quinoa in a medium saucepan. Bring to a boil over high heat. Reduce heat to medium-low; cover and simmer 15 minutes or until most of the liquid is absorbed. Turn off heat; let stand covered 5 minutes. Stir in blackberries and cinnamon; transfer to four bowls and top with pecans. Drizzle 1 teaspoon agave nectar over each serving.
*While the quinoa cooks, roast the pecans in a 350F degree toaster oven for 5 to 6 minutes or in a dry skillet over medium heat for about 3 minutes.
4 Portions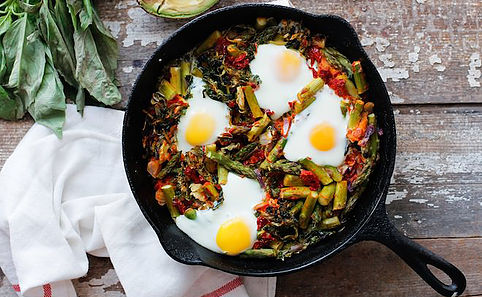 Kale, mushroom, tomato & egg bake recipe
Ingredients:
1 Tbsp extra-virgin olive oil
1 pinch of turmeric
1/4 onion, chopped, 2 mushrooms & 1 Roma tomato, sliced
1 handful of kale, finely chopped/asparagus
2 Organic eggs
1 pinch of salt & 1 pinch of black pepper, ground
Method
* Preheat oven to 350°F.
* Heat a small cast iron skillet over medium high heat and add the extra-virgin olive oil
* When oil is hot, sauté turmeric, onions, and mushrooms.
* When vegetables have softened, about 5 minutes, stir in kale and Roma tomato.
* Open up two small circles in the vegetables and drop in eggs.
* Remove skillet from heat and place in the hot oven. Cook until desired doneness, 8-10 minutes for slightly undercooked eggs.
* Season eggs with salt, ground pepper and hot sauce (optional).
2 Portions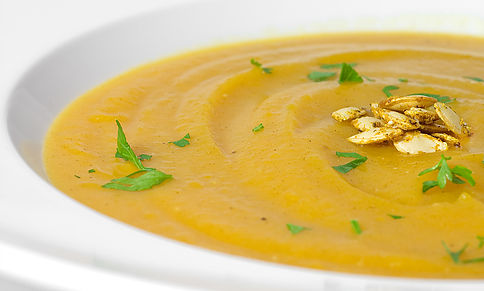 Carrot, butternut squash & coriander soup recipe
Ingredients:
2tbsp sunflower oil
2 onions, peeled and finely chopped
5cm (2in) piece root ginger, peeled and chopped
2 garlic cloves, chopped
2tsp ground cumin
500g (1lb 2oz) carrots, peeled and chopped
1 medium butternut squash, peeled, deseeded and cut into 2.5cm (1in) cubes
1.5 litres (2.75pt) vegetable stock
1 bunch coriander, roughly chopped
6 heaped tsp Greek, soya or sheep's yogurt
Method
Heat the oil in a large saucepan, add the onions, ginger and garlic and sweat for 5 minutes, until soft but not coloured.
Add the ground cumin and cook for a minute, then add the carrots, butternut squash and vegetable stock. Bring to a boil, reduce to an enthusiastic simmer and cook for 20 to 25 minutes until the vegetables are soft.
Purée the soup in an electric blender until smooth, stir in the coriander and serve in warmed bowls with a spoonful of yogurt on top.
6 portions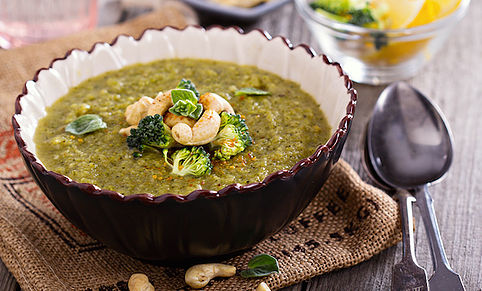 Roasted broccoli soup with cashews recipe
Ingredients:
1 1/2 tablespoons olive oil
2 large onions, chopped
2 cloves garlic, minced
3 medium carrots, peeled and sliced
32-ounce carton vegetable broth, or
4 cups water with 2 vegetable bouillon cubes
2 medium apples, peeled, cored, and diced
1 1/2 teaspoons good-quality curry powder
2 teaspoons grated fresh or jarred ginger
2/3 cup natural cashew or peanut butter
6 heaping cups finely chopped broccoli florets
Juice of 1/2 to 1 lemon, to taste
Salt and freshly ground pepper to taste
Method
Heat the oil in a soup pot. Add the onions and sauté over medium-low heat until translucent. Add the garlic and carrots and continue to sauté until the onions are golden.
Add the broth or water with bouillon cubes, apples, curry powder, and ginger. Bring to a rapid simmer, then lower the heat. Cover and simmer gently for 10 to 15 minutes, or until the carrots and apple are tender. Remove from the heat.
Transfer the solid ingredients from the soup to a food processor with a slotted spoon. Process until just coarsely pureed, leaving plenty of chunks of carrot. Stir the puree back into the soup pot. Or, insert an immersion blender into the pot and process until coarsely pureed.
Add the nut butter to the soup, about half at a time, whisking in until completely blended with the stock. Return to very low heat.
Steam the broccoli in a saucepan with about 1/4 cup water, covered, until brightly colored and tender-crisp to your liking. Stir into the soup along with any remaining liquid.
6 Portions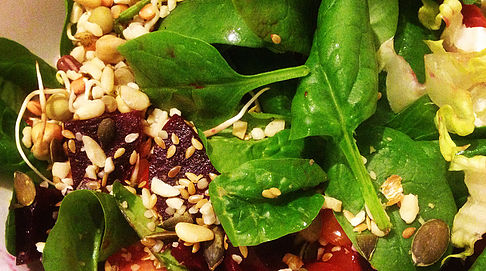 Super Salad recipe
Hand full of green/red leaf lettace
Hand full of baby spinach leaves & rocket
1/2 yellow/red pepperd-diced in strips
1/4 finley chopped red onion
Cherry vine tomatoes
1/2 Beetroot
1/4 cucumber
2 spring onions
Mung bean sprouts
Flaxseeds, pumkin seeds & pine nuts
Dash of Himalayan salt, mixed peppercorns, olive oil & balsamic vinegar
Chop and mix together make it colourful!
2 Portions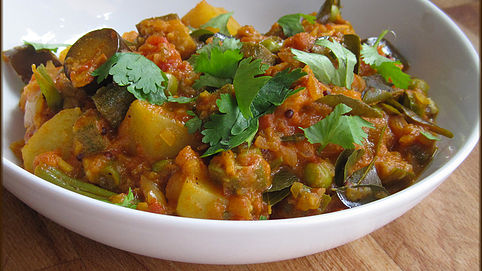 Vegetable curry recipe
Ingredients:
1 medium red onion , peeled and chopped
1 courgette , diced
½ butternut squash , peeled and diced
100 g mushrooms , quartered
1 red pepper , diced
150 g cauliflower , broken into florets
600 ml curry base sauce
400 ml water
4 Portions
Method
In a little vegetable oil, fry the onion gently for 10 minutes in a large pan then add the remaining vegetables and stir together. Add the curry base sounds and simmer gently for around 25 to 30 minutes, taking care not to overcook the vegetables. If the sauce becomes too thick, add a little water to give you the desired consistency.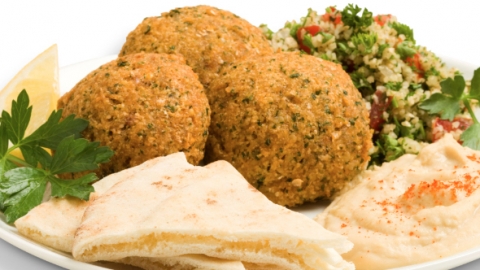 Baked falafel recipe
Ingredients
2  cans chickpeas/Dry chickpeas soaked overnight
1/2 large red onion, roughly chopped (about 1 cup chopped)
4 cloves garlic, roughly chopped
1/4 to 1/2 cup loosely packed parsley
1/4 to 1/2 cup loosely packed cilantro
2 tablespoons olive oil
2 tablespoons lemon juice
2 teaspoons cumin
2 teaspoons coriander
1 1/2 teaspoons salt
2 teaspoons baking powder
1/4 cup flour, optional for binding
Instructions
Preheat the oven to 375°F: Brush a baking sheet with a thin layer of olive oil. Combine all the ingredients in a food processor, except baking soda and flour: Add the chickpeas, onion, garlic, parsley, coriander to the food processor. Sprinkle the olive oil, lemon juice, and spices. Pulse until the ingredients are mixed. Taste the mixture: Taste and add more of what you like. Sprinkle the baking powder and flour over the mixture. Continue pulsing until the mixture forms a ball: Bake the falafel right away or refrigerate for up to 5 days. Roll the falafel into large balls. Transfer to the baking sheet and gently press into patties. Brush the tops with a little more olive oil. Bake for 25 to 30 minutes, flipping the falafel partway through.
4/6 Portions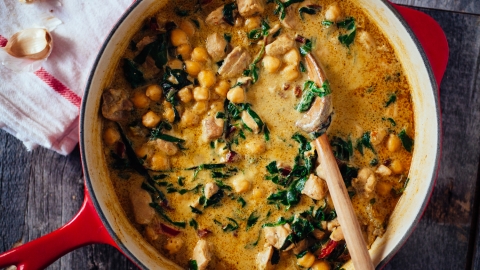 Spinach, chickpea & coconut curry recipe
Ingredients:
1 cup dried chickpeas (3 cups cooked or 2 14 oz cans)
1 tablespoon olive oil
1 medium onion, diced
1-inch piece ginger, grated or minced
2 cloves garlic, minced
3 green chilies, seeded and minced
small handful of dried curry leaves, crushed
1 tablespoon curry powder
1 large tomato, finely chopped
1/2 cans of coconut milk
1 cup baby spinach leaves, packed
1 teaspoon sea salt, or to taste
Instructions:

Rinse the chickpeas and soak for 8 hours or overnight in several inches of water. Drain and rinse, then transfer to a medium saucepan and cover with several inches of fresh water. Bring to a boil, reduce heat to low, cover, and simmer for 1 to 1 1/2 hours or until tender. Drain and set aside. Heat the oil in large saucepan over medium heat. When hot, add the panch phoran and stir for a few minutes until the seeds darken a few shades. Add the onion to the pan and sauté until softened. Toss in the ginger, garlic, chilies and curry leaves, and stir for another few minutes. Add the curry powder and stir for a minute to coat the vegetables. Add the tomatoes and cook until they begin to break apart and thicken — about 5 minutes. Now stir in the coconut milk and chickpeas and simmer for another 10 minutes, stirring often. Add the spinach, a few handfuls at a time, until wilted. Stir in the salt and serve.
4 Portions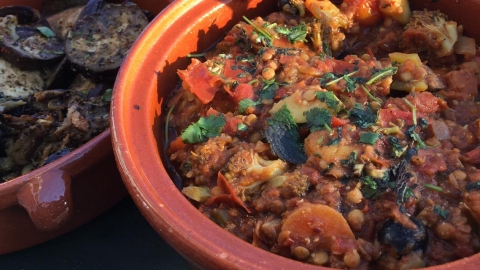 Moroccan Tajine recipe
Ingredients:
1/4 cup extra-virgin olive oil
3 large garlic cloves, peeled
2 cups thinly sliced red onion
1/2 cup dried apricots, sliced
1 tablespoon ras el hanout (Moroccan spice blend) or garam masala
1 teaspoon salt
3/4 teaspoon black pepper
1/4 teaspoon crushed red pepper
1 (3-inch) cinnamon stick
1/2 cup water
1 1/2 teaspoons grated lemon rind
1 1/2 tablespoons fresh lemon juice
2 (15-ounce) cans chickpeas (garbanzo beans), rinsed and drained
1 (28-ounce) can no-salt-added whole tomatoes, undrained and chopped
6 cups escarole, torn into 1-inch pieces
1 cup cilantro leaves
1/4 cup mint leaves
1/2 cup roasted whole almonds, coarsely chopped
4 cups Quinoa (2 cups water to 1 cup quinoa)
Method
1. Heat a large skillet over medium-high heat. Add oil to pan; swirl to coat. Add garlic; cook for 1 minute, stirring constantly. Remove garlic from pan using a slotted spoon; discard or reserve for another use. Add onion and next 6 ingredients (through cinnamon stick) to pan; sauté for 7 minutes or until the onion is lightly browned, stirring occasionally. Add 1/2 cup water, rind, juice, chickpeas, and tomatoes; bring to a boil. Reduce heat, and simmer for 7 minutes, stirring occasionally.
2. Stir in escarole; simmer for 1 minute or until escarole wilts. Remove from heat. Sprinkle with cilantro and mint; top with almonds. Serve over Quinoa.
8 portions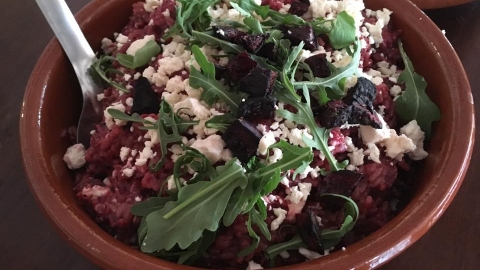 Beetroot Risotto recipe
Ingredients:
500g fresh beetroot
2 tbsp olive oil
knob of butter
1 onion finely chopped
1 garlic clove, finely chopped
250g risotto rice
150ml white wine
700ml hot vegetable stock
handful grated Parmesan/Vegan alternative
4 tbsp soured cream (optional)
handful chopped dill
4 Portions
Method
Heat oven to 180C/fan 160C/gas 4. Peel and trim the beetroots (use kitchen gloves if you don't want your hands to get stained) and cut into large wedges. Place on a large sheet of foil on a baking sheet. Toss with 1 tbsp olive oil, season, then cook for 1 hr until the beets are soft.

Meanwhile, heat the remaining olive oil with the butter in an ovenproof pan with a lid. Tip in the onion and garlic, then cook for 3-5 mins until translucent. Stir in the rice until well coated with the butter and oil. Pour over the white wine, then let the mixture bubble away for 5 mins.

Stir well, then pour over the stock. Stir again, cover and place in the oven. Cook for 15 mins until the rice is soft. Remove the beetroots from the oven. Whizz ¼ of them to make a purée, then chop the remainder into small pieces. Stir most of the Parmesan, the beetroot purée and chopped beetroot through the risotto, then serve with some soured cream dolloped over and the dill and extra Parmesan scattered on top.
Healthy sweet & savoury snacks Yoga retreat recipes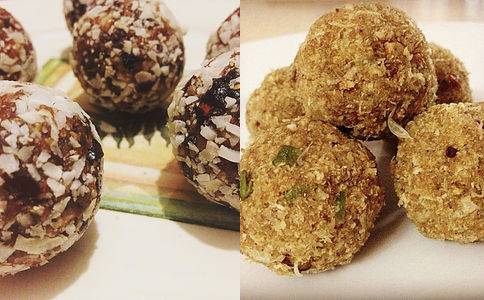 Wild fig & Chocolate orange - Energy Balls recipe
Ingredients: 
4 dried Figs
8 Dates
1 teaspoon grated Orange peel
1 teaspoon of Chia Seeds
Handful of soaked Cashews (soak in spring water for 2-4 hours & rinse through)
Sprinkle of Cacao nibs
Sprinkle of Shredded coconut
1 teaspoon of Maca powder
2 table spoons of Cacao powder
Place in a mini chopper/food processor to blend.
4 portions
Coconut & lime balls recipe
Ingredients:
1 cups of Shredded coconut
sprinkle of Lime zest
1 tablespoon of Lime juice
1/2 cup of Crushed almonds
1/2 cup of Honey/Agave syrup
Mix & mould by hand.
4 portions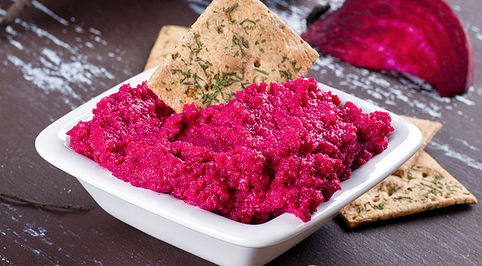 Beetroot Humous recipe
Ingredients:
1 roasted beet
1 3/4 cup cooked chickpeas, mostly drained
Lemon zest
Juice of half a lemon
Himalayan salt
Mixed black pepper
2 cloves garlic finley diced
2 table spoon tahini
1/4 cup extra virgin olive oil
Place in a mixer.
6 Portions