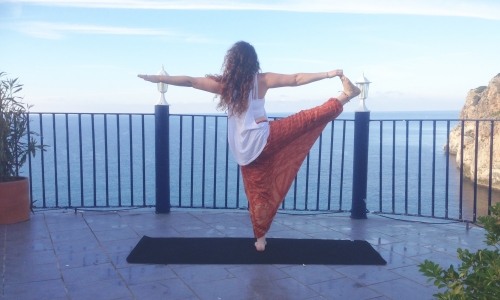 I have travelled around the southern & northern parts of India finding my feet, connecting to like minded people, learning from incredible & knowledgable teachers in various styles of yoga. I am an advanced qualified Yoga teacher & internationally recognised with Yoga Alliance UK. My aim is to help others embrace the importance of breath, being mindful & present with each moment, connecting with your body & oneness, correcting body alignment and bringing awareness & healing to where you need it most.
Each class has its own unique flow beneficial for everyone, listening & tuning in to all.
Weekly Yoga classes 2017
· Mondays 5.30 – 6.30pm – Ashtanga & Iyengar £7
· Tuesdays 10 – 11am – Active Hastings over 50's class £3
· Wednesdays 7 – 8.30pm – Hatha & Yin £8
Located in the historical part of the Old Town, The hall has a lovely feel and is warm & spacious with bright sky lights.
142 All Saints' Street, Hastings TN34 East Sussex.
All levels welcome & Yoga equipment is provided. See you on the mat! ♥
One to one sessions available
Located at my private yoga studio in the heart of Hastings Old Town
Yoga therapy for stress, depression, anxiety & insomnia
A healing class tailored to meet your individual needs working with different breathing techniques, deep meditation, easy comfortable stretches, Yoga Nidra deep sleep relaxation & sound energy healing.
1 hour £35
1.15 hour £40
Outdoor summer Yoga & Meditation classes ☼
Located either on Rock N Ore beach the most beautiful & natural part of Hastings sea front or up on the East Hill surrounded by peaceful nature and far reaching panoramic sea views.

Donation based